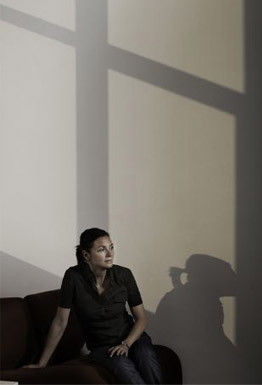 Born in Denmark, educated in Europe and Canada, Ann's artistic style represents several cultural influences. Working with mediums of oils and printmaking; Ann's art draws widely on an abstract interplay of colour, depth, form and texture.
Ann has completed her Masters in Art Education, as well as, a Bachelor of Fine Arts and a Bachelor of Education at the University of British Columbia. She has complimented this training with further studies at Emily Carr Institute of Art + Design/Florence Program (Florence, Italy), Université Canadienne en France/Laurentian University (Nice, France), Grafisk Gruppe Havarthigaarden (Holte, Denmark), Malaspina Printmakers Society (Vancouver, Canada), Dundarave Print Workshop & Gallery (Vancouver, Canada), and Metchosin International Summer School of the Arts (Metchosin, Canada).
Ann has developed versatility and range uncommon among artists of her generation. With showings in various cities world wide, she has received national and international exposure for her works. These public showings have resulted in several private commissions. Ann does not simply prosper and express herself through her work; she is a talented and respected educator who uses her gifts to enrich the lives of others.
Ann has always loved working with adolescents and has been teaching Art and Photography in Richmond at the senior level for the past twenty years. She finds working cooperatively with fresh young minds to create vibrant and exciting new projects to be intellectually stimulating as well as emotionally satisfying. This innocence regained through the study of art with children helps to balance her own extensive experience; this fresh and invigorating way of seeing the world finds expression in her creations.
The daughter of a Danish father and a Chinese mother, Ann draws on her culturally diverse Asian, European and Canadian heritage to generate a harmonious fusion of textures and styles in her paintings and prints. Extensive international travel has helped to hone these cosmopolitan influences into a fundamentally diverse and original worldview, which manifests itself in her work.
Ann creates balanced tension through the abstract blending of colours and hues to evoke deep emotional reactions from the observer. Her paintings become a common ground for the artist's expression and the audience's perception of independent emotional states; the creator and viewer meet on the canvas to collaboratively experience individual thoughts and perceptions.
Ann Thinghuus is represented with collections in Canada, USA, United Kingdom, Denmark, Italy, Germany, Switzerland, Singapore, Malaysia and China.